What's New?
Something BIG
in Bunion Correction is coming!
Sign up now to be among the first to hear all about it:
* Required


Your privacy is important to us, and your personal information will not be used by anyone other than Dr. Zeetser to let you know about his new Bunion Correction Procedure.
Laser Fungal Nail Treatment
Before After
The state of the art in hammertoe correction and aesthetic toe shortening
Sclerotherapy
for unsightly spider veins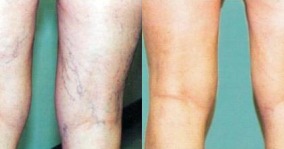 Before and After Photos
50 year old female with bunion deformity of both feet
Before Surgery (Right foot)
After Surgery – No visible incision scar on the top of the foot
After Surgery – Normal position of the big toe
After Surgery – Minimal to no visible scar at incision site on the side of the foot
Same 50 year old female - left foot
Before Surgery - (left foot)
After Surgery (3 days)
After Surgery (14 days) – No visible incision scar on the top of the foot
31 year old female with bunion deformity and cocked-up 5th toe
Before Surgery
After Surgery
Minimal incision scar visible on the side of the foot
Same 31 year old female - left foot
Before Surgery - (left foot)
After Surgery - (2 weeks)
45 year old male with an excessively long 2nd toe and pain on the ball of the foot
Before Surgery
After Surgery
73 year old female with bunion deformity of the left foot
Before Surgery
After Surgery (5 weeks) – No visible incision scar on the top of the foot
After Surgery (3 days)
After Surgery (5 weeks) – Minimal to no scar visible on the side of the foot
65 year old male with bunion deformity of both feet
Before Surgery (Left foot)
After Surgery – No visible incision scar on the top of the foot
Before Surgery – (Right foot) same 45 year old male
After Surgery – No visible incision scar on the top of the foot
35 year old female with bunion deformity of the right foot
Before Surgery
After Surgery – No visible incision scar on the top of the foot
After Surgery
After Surgery – Minimal incision scar on the side of the foot
61 year old female with bunion deformity of the right foot
Before Surgery
After Surgery – No incision scar visible on the top of the foot
After Surgery – Minimal to no incision scar visible on the side of the foot
49 year old male with previous bunion surgery on the left foot by another physician requiring revision
Before Surgery – Notice the incision scar on the top of the foot
After Surgery – Excellent correction of the deformity using the previous incision on the top of the foot
92 year old female with severe bunion and contracted toe deformities of the left foot
Before Surgery
After Surgery