America's Premier Foot and Ankle Surgeon
Expert Reconstructive, Cosmetic, Aesthetic Foot Surgery
Dr. Vladimir Zeetser, DPM, FACFAS | 818-907-6100
What's New in Podiatry?
Something BIG
in Bunion Correction Has Arrived!
CLICK HERE TO SEE!
Meet our newest
International Fellow
Can Yapici, MD
Orthopedic Surgeon - Istanbul, Turkey
Completed the
October 2015
Aesthetic Foot Surgery Fellowship
and personal training with Dr. Zeetser for the FastForward™ Bunion Correction
Completed
May 2017
Aesthetic Foot Surgery Fellowship
Laser Fungal Nail Treatment
Before After
The state of the art in hammertoe correction and aesthetic toe shortening
Sclerotherapy
for unsightly spider veins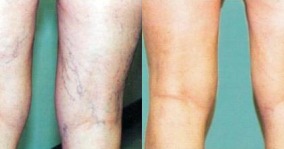 Ganglion Cyst
This is usually a benign soft tissue mass filled with a thick jelly like fluid. They often arise from a joint capsule or tendon sheath. A lump beneath the skin can cause pressure on a nearly nerve or pain in shoes. These fluid-filled masses are fairly common and can be present in many locations on the foot, but usually on the top. Without symptoms, they can be left alone; however, if they continue to enlarge and cause pain, the fluid can be drained. If the mass continues to fill with fliuid, it may require surgical removal.
Common Foot and Ankle Problems Successfully Treated
by Los Angeles Podiatrist Dr. Vladimir Zeetser
Foot and ankle problems usually fall into the following categories:
Acquired from improper footwear, physical stress, or small mechanical changes within the foot.

Arthritic foot problems, which typically involve one or more joint.

Congenital foot problems, which occur at birth, are generally inherited.

Infectious foot problems, which are caused by bacterial, viral, or fungal disorders.

Neoplastic disorders, usually called tumors, which are the result of abnormal growth of tissue and may be benign or malignant.

Traumatic foot problems, which are associated with foot and ankle injuries.

Aesthetic – for additional information, please click here.
The most commonly treated foot problems are:
(all descriptions are mainly in laymen's terms)