America's Premier Foot and Ankle Surgeon
Expert Reconstructive, Cosmetic, Aesthetic Foot Surgery
Dr. Vladimir Zeetser, DPM, FACFAS | 818-907-6100
What's New in Podiatry?
Something BIG
in Bunion Correction Has Arrived!
CLICK HERE TO SEE!
Meet our newest
International Fellow
Can Yapici, MD
Orthopedic Surgeon - Istanbul, Turkey
Completed the
October 2015
Aesthetic Foot Surgery Fellowship
and personal training with Dr. Zeetser for the FastForward™ Bunion Correction
Completed
May 2017
Aesthetic Foot Surgery Fellowship
Laser Fungal Nail Treatment
Before After
The state of the art in hammertoe correction and aesthetic toe shortening
Sclerotherapy
for unsightly spider veins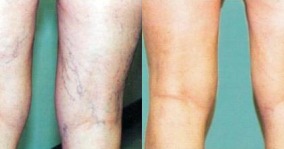 Heel Pain, Plantar Fasciitis and Heel Spur Syndrome
This general category results in pain to the inside (medial aspect) of the heel which can occur suddenly or have a gradual onset. It occurs from excessive tension on the plantar fascia, the tendon attaching on the bottom of the heel bone, which results in microtearing and inflammation. With time and continued stress, the muscle pulls at its attachment to the heel bone and eventually produces a calcified spur visible on x-ray.
Typically described by patients as a very painful sensation upon arising in the morning and trying to make the first step of the day. After anywhere between 10-30 minutes, the pain subsides and the day progresses with a dull aching constant pain. Upon relaxing and being seated the pain tends to go away and then when the patient arises again to start walking the cycle starts all over again with very painful first step. Conservative treatment typically consists of injections, anti-inflammatory medications, stretching exercises, orthotics and sometimes physical therapy. For the 5-10% of patients that do not completely improve with conservative care, additional options remain. Prior to considering open surgery, a successful treatment called Extracorporeal Shock Wave Therapy (ESWT), first introduced as Ossatron, has been used for decades safely to procedure up to 92% success rates with one treatment.
Common Foot and Ankle Problems Successfully Treated
by Los Angeles Podiatrist Dr. Vladimir Zeetser
Foot and ankle problems usually fall into the following categories:
Acquired from improper footwear, physical stress, or small mechanical changes within the foot.

Arthritic foot problems, which typically involve one or more joint.

Congenital foot problems, which occur at birth, are generally inherited.

Infectious foot problems, which are caused by bacterial, viral, or fungal disorders.

Neoplastic disorders, usually called tumors, which are the result of abnormal growth of tissue and may be benign or malignant.

Traumatic foot problems, which are associated with foot and ankle injuries.

Aesthetic – for additional information, please click here.
The most commonly treated foot problems are:
(all descriptions are mainly in laymen's terms)