America's Top Podiatrist 2015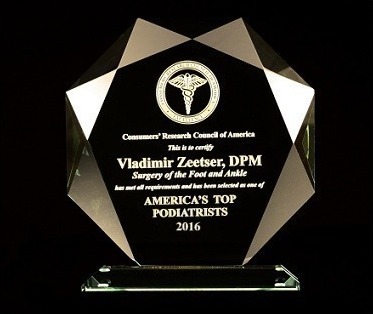 5400 Balboa Boulevard, Suite 325
Encino, California 91316
(on the east side of Balboa Blvd, just south of the 101 freeway)
Telephone: (818) 907-6100
Fax: (866) 513-4995
Email: info@drzeetser.com
Dr. Vladimir Zeetser is a board certified podiatric physician and surgeon specializing in reconstructive foot and ankle surgery. He is certified by the American Board of Podiatric Surgery both in Foot Surgery and Reconstructive Rearfoot and Ankle Surgery. His training includes advanced wound management and limb salvage and he has consistently achieved unparalleled results in healing problematic wounds. As an innovator and trendsetter in his field, he has been progressive in expanding aesthetic foot surgery and associated procedures to improve his patients' self-image while achieving among the highest functional outcomes and levels of patient satisfaction. Apparently unconventional in his practice approach, Dr. Zeetser believes that surgery should be minimally painful with a convenient and tolerable recovery, while producing the maximum results. He believes that the aesthetic result of any procedure is not a secondary consideration, but is just as important as the primary condition being corrected.
Feel free to explore this internet destination to become acquainted with the information and services available. Dr. Zeetser treats all aspects of foot and ankle structural disorders, including lower extremity muscular, neurological, vascular and skin conditions. During your consultation, Dr. Zeetser always performs a thorough evaluation, explains his findings in detail and creates a treatment plan tailored to your specific needs. With all of your options presented in an understandable manner, you participate equally in the decision making for the treatment of your complaint.
When to Call a Doctor
Please seek immediate medical care if you experience:
Persistent pain in your feet or ankles.
Red, hot, swollen joints in the foot with severe pain and limping.
Pain, redness or other noticeable change to your toenails.
Pain, redness or other skin condition including severe cracking, scaling, or peeling.
Blisters and/or sores on the feet or ankles.
Signs of bacterial infection including: increased pain, redness, heat, red streaks extending from the affected area, discharge of pus.
Fever of 100°F (37.78°C) or higher with no other cause.
Symptoms that do not improve after two weeks of treatment with a non-prescription product.
Any of the above AND you are diabetic, have poor circulation, are taking Coumadin (or other anticoagulants) or have any other systemic condition that places you at increased risk for lower extremity complications.
Disclaimer - The content on this site is for informational purposes only. You are encouraged to perform your own research into common foot problems and treatments available. It is not intended for the purpose of self-diagnosis or treatment recommendations. Only a personalized consultation can appropriately address your specific concern. - Dr. Zeetser