America's Premier Foot and Ankle Surgeon
Expert Reconstructive, Cosmetic, Aesthetic Foot Surgery
Dr. Vladimir Zeetser, DPM, FACFAS | 818-907-6100
Sclerotherapy for Varicose and Spider veins
Spider veins (known as telangiectasias) in the lower extremities are the result of varicose veins with leaky or incompetent valves. Patients generally suffer from venous insufficiency and can experience heaviness and swelling of the legs, ankles and feet. This condition can be hereditary or activity related. Jobs or activities requiring prolonged periods of standing or sitting in one place contribute to the condition. Left untreated, they can lead to permanent dark brown discoloration of the skin and ultimately venous stasis ulcerations.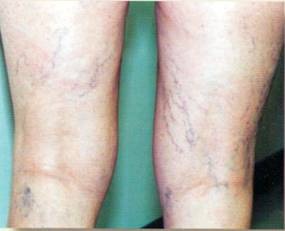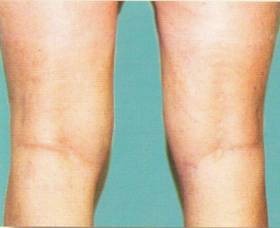 In the short term, this condition results in the creation of superficial blue colored spider veins that often create unsightly patches on the lower legs, ankles and feet. Other than wearing compression stockings at all times, very little can be done to permanently prevent these unsightly veins from arising. Depending on the location and the specific person, their presence can erode self-confidence and affect one's self-image. Often, young women will be embarrassed to wear shorts or skirts.
Many treatments are available for this condition including laser, radiofrequency and injections. Lasers have not provided optimal results and can be painful. Previously saline injections were used which were not greatly effective and could cause superficial wounds. Dr. Zeetser has been using a type of sclerotherapy which is generally accepted to be the most safe and effective available today. The procedure is virtually painless. The amount of treatments necessary and the results depend on the individual and the size of the area affected, however improvement is typically seen relatively quickly. The specific details of the treatment will be discussed during your consultation.
Don't be embarrassed by those unsightly spider veins any longer.
Aesthetic Foot Surgery by Award-Winning Podiatrist Dr. Vladimir Zeetser
Because everyone deserves beautiful feet!!
Let's face it, image is important and cosmetic surgery is here to stay. With television shows idolizing young hip plastic surgeons and reality shows chronicling patient experiences, it is clear that people are obsessed with beauty and glamour. Beautification of the feet has arrived and now being beautiful from head to toe has a new meaning!
Aesthetic foot surgery can be performed strictly for cosmetic reasons, but the benefit is twofold. Besides an increase in the attractiveness of the foot, function is generally improved and/or restored. Conservative care should be considered, but often is impractical and temporary with aesthetic surgery being the best definitive option. A more innovative and refined approach, using new modifications to time tested procedures coupled with the latest in technology is what sets aesthetic foot surgery apart. This typically leads to quicker and more ambulatory recovery periods, generally improved cosmetic appearance with minimal scarring and minimal pain. All procedures are done on an outpatient basis with the patient going home and usually being able to walk the same day.
Meticulous dissection and incision placement can be learned. An eye for aesthetics and attention to detail cannot. Anyone can claim to perform aesthetic foot surgery, but only few can succeed. Dr. Zeetser is at the forefront of innovative and progressive surgical procedures that can effectively correct a variety of conditions using state of the art implants and the latest techniques.
Cosmetic foot surgery has become much more popular over the past several years and for the best outcome, it is important to be evaluated by a qualified surgeon. Physicians who debunk it do so because they achieve less than optimal results. Don't be a bad cosmetic foot surgery statistic. To obtain an aesthetic and functional result, call Dr. Zeetser for a surgical consultation. Regain your self-confidence!
Note: All surgical procedures anywhere on the body carry some degree of risk and you are encouraged to use all sources available to you to research your condition and treatment options. However, Dr. Zeetser has done everything possible to refine his procedures to avoid the most common complications and pain. Conscious sedation with local anesthesia rather than general or spinal anesthesia removes the majority of the risk. Patient's wake up pain free and feeling as though they had a restful nap and are unlikely to experience headaches, nausea, vomiting or throat pain, common to general anesthesia.
Procedures To Consider:
Media Links

Aesthetic Foot Video Clip